What will we be like when we get there
World Premiere at New York Live Arts, NYC (March 28–31, 2018)
As part of Live Artery at New York Live Arts, NYC (January 4–5, 2019) Tour to The Yard, Martha's Vineyard (June 13+15, 2019) Tour to Bates Dance Festival (August 1+2, 2019)

Download current press kit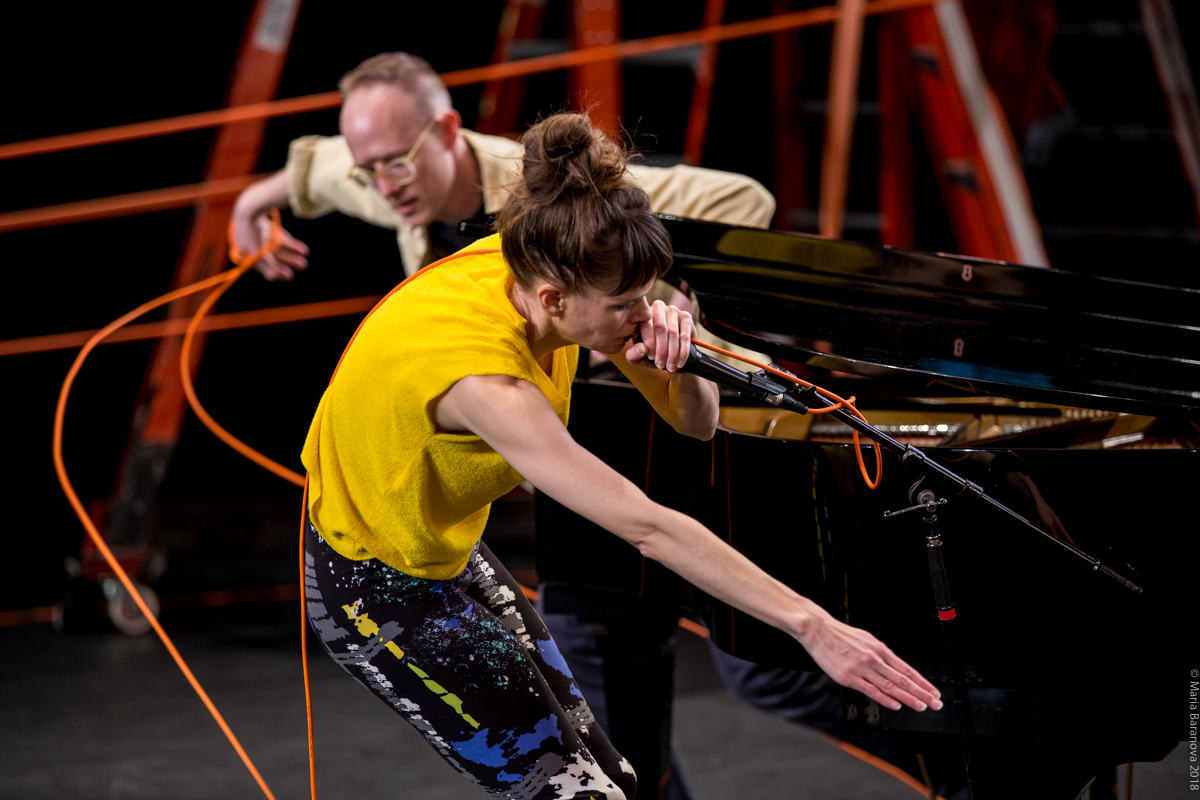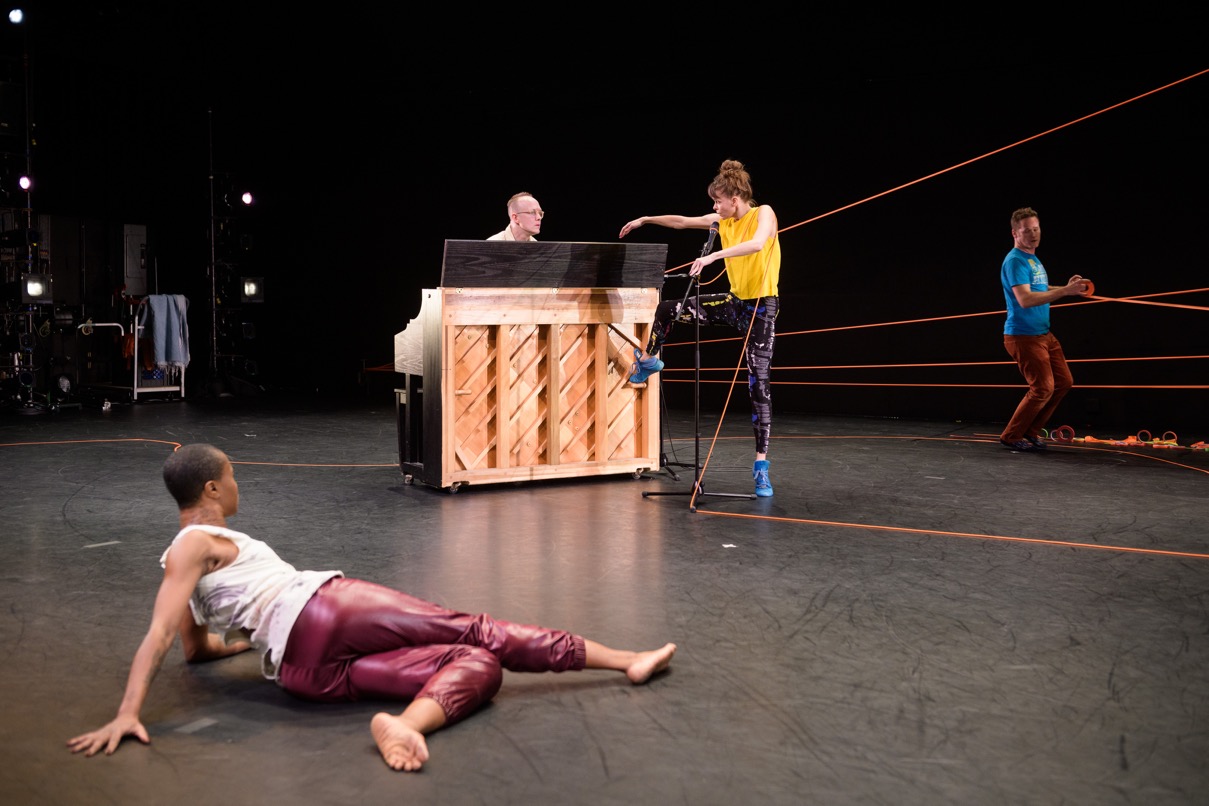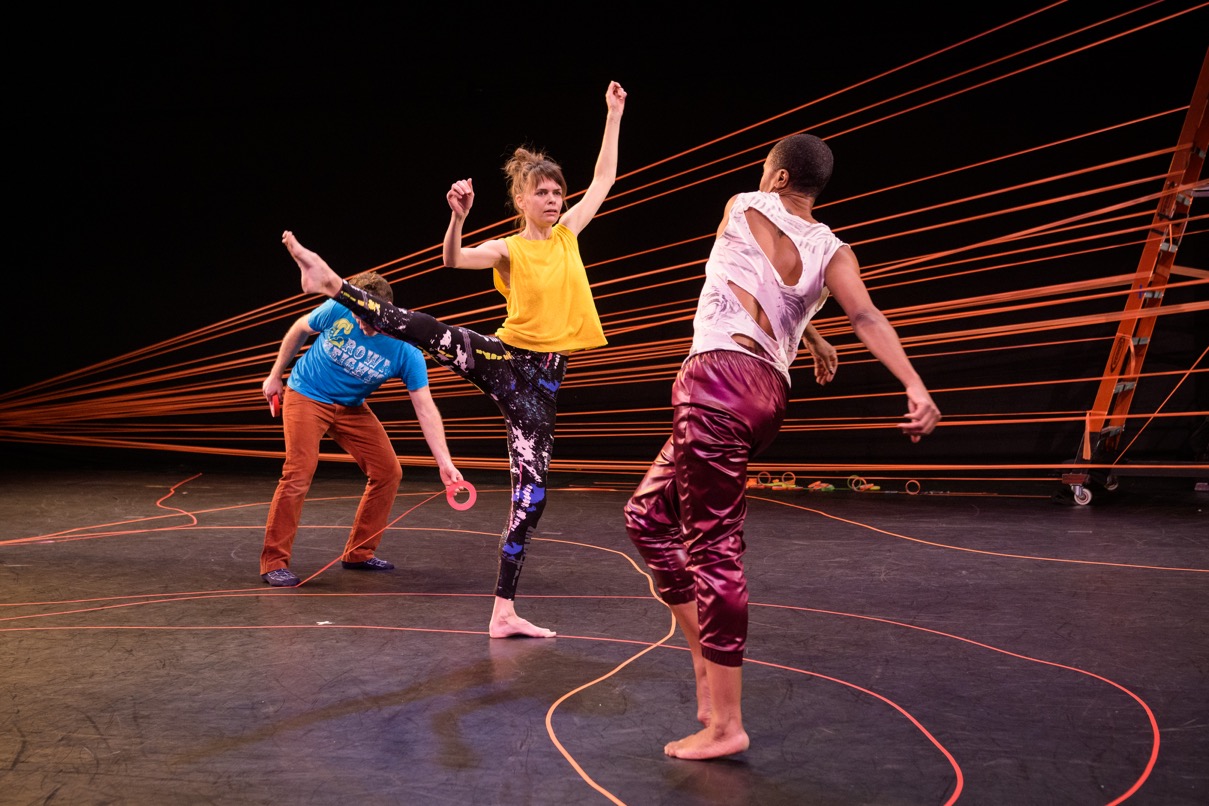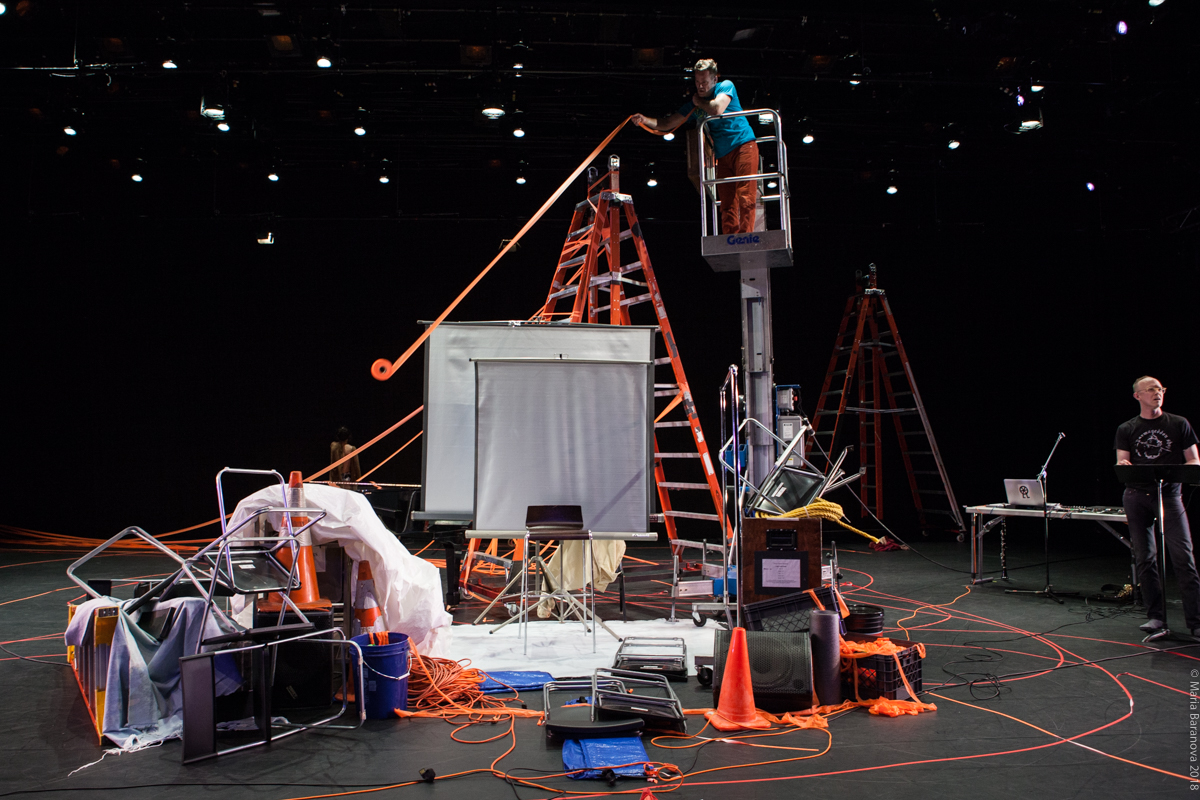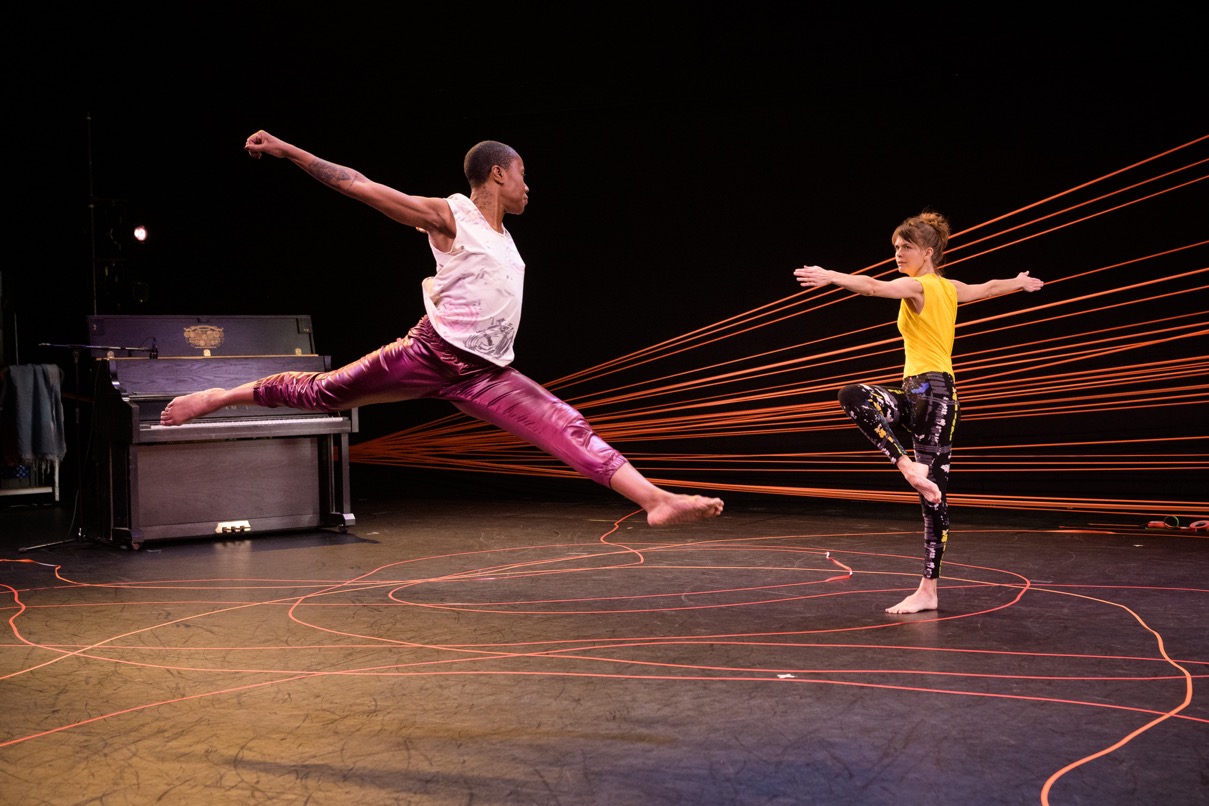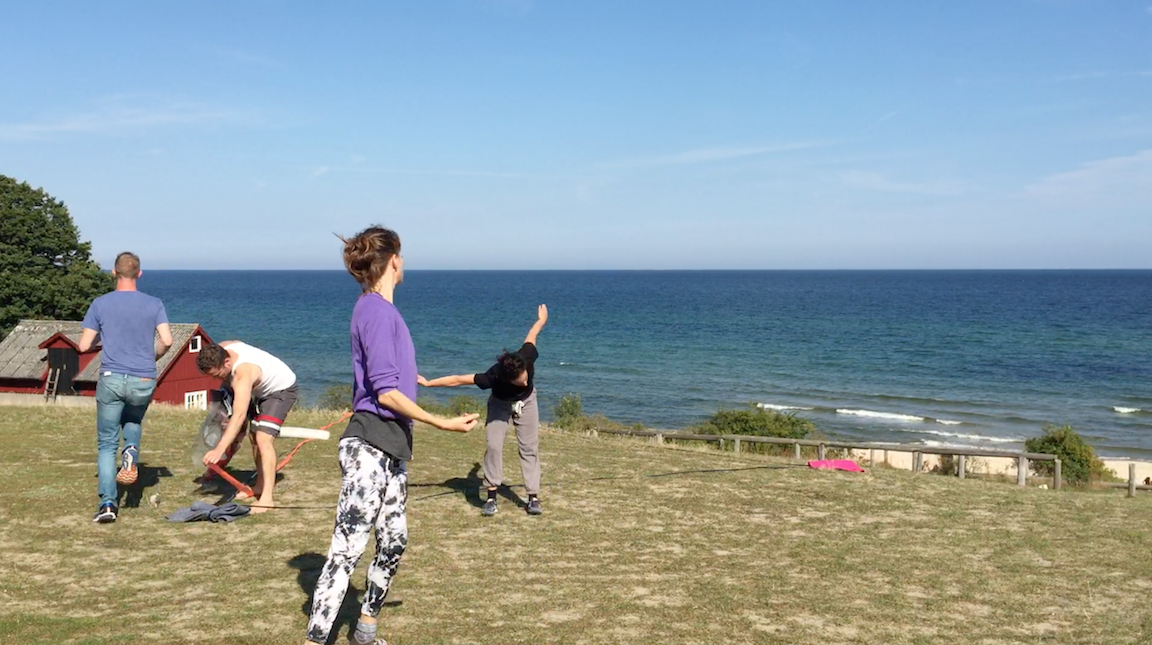 What will we be like when we get there is a multidisciplinary performance created by dancer/choreographer Joanna Kotze and her collaborators dancer Omagbitse Omagbemi, visual artist Jonathan Allen, and composer/musician Ryan Seaton. This 50ish-minute live performance combines movement, sound, and visual art in harmonic, dissonant, and surprising ways. Through their practice, that becomes the performance, the artists investigate their own expertise within "their" respective disciplines, as well as the possibilities that emerge when they inhabit space together.
'What will we be like when we get there' premiered at New York Live Arts March 28–31, 2018 (reprised by NYLA January 4-5, 2019) and resonates with the social and political time we are living in now. Created during the lead up and aftermath of the 2016 US presidential election, the work emulates the spectrums we find so prevalent around us: order to chaos, humor to violence, intimacy to isolation. While the current climate is not entirely new or foreign, citizens today are increasingly dissociating – physically and emotionally – from one another using technology as a replacement for conversation and relationship. What will we be like when we get there highlights and underscores the need for human interaction as we process loss, joy, curiosity, shock and fear. The frayed beginning, fleeting moments of intense emotion, multiple climaxes, and vulnerable nature of the performance emphasize this need – as well as the potential for change that is within ourselves.
Multidisciplinary collaboration is the core of this work and the intimate exchange pushes each artist into new territory and ways with engaging with the place, materials, and people at hand. In addition to the performance, there are possibilities to present unique events, exhibits, concerts, and workshops/classes that highlight that dance, music, and visual art practices are layered within the culminating performance.
Furthering the notion of an artistic partner, the team considers place their fifth collaborator, investigating how where one works shapes who one is and what one does? What will we be like when we get there is extremely site responsive with the ability to adapt to many different settings – from traditional and non-traditional theater settings to gymnasiums, churches, galleries, etc. – and engage many different communities.
'What will we be like when we get there' was created during a series of residencies, most of which culminated in public showings of the work-in-progress: The Camargo Foundation, Cassis, France; Marble House, Vermont; Sedona Arts Center, Sedona, Arizona; Governor's Island, New York City, through Lower Manhattan Cultural Council; Bennington College, Vermont; Jacob's Pillow, Massachusetts; Milvus Artistic Research Center, Kivik, Sweden; 92nd Street Y Harkness Dance Center, New York City; New York Live Arts, New York City.
The creation of What will we be like when we get there is supported in part by a commission from New York Live Arts' Live Feed Residency program with additional support from the Joseph and Joan Cullman Foundation for the Arts, the Mertz Gilmore Foundation, the National Endowment for the Arts, the New York City Department of Cultural Affairs in partnership with the City Council with special thanks to Council Member Corey Johnson, the New York State Council on the Arts with the support of Governor Andrew Cuomo and the New York State Legislature, the Jerome Robbins Foundation, the Fan Fox & Leslie R. Samuels Foundation, the Scherman Foundation, and the Shubert Foundation. What will we be like when we get there is also supported by a Jerome Foundation General grant and residencies at The Camargo Foundation (with support from Movement Research and the Jerome Foundation), Marble House, Sedona Arts Center (and the City of Sedona), Lower Manhattan Cultural Council (LMCC), Bennington College, Jacob's Pillow Creative Development Residency Program, MARC - Milvus Artistic Research Center, the Harkness Dance Center's Artist-in-Residence Program at 92Y, and many generous individuals including the Joanna Kotze Dance Projects Leadership Circle.
The original cast featured Netta Yerushalmy.
Photos by Ian Douglas, Maria Baranova, Ryutaro Mishima, Carolyn Silverman, Jonathan Allen, David Dashiell, Albin Hillervik